La Nuit Manquante I
Creation 2015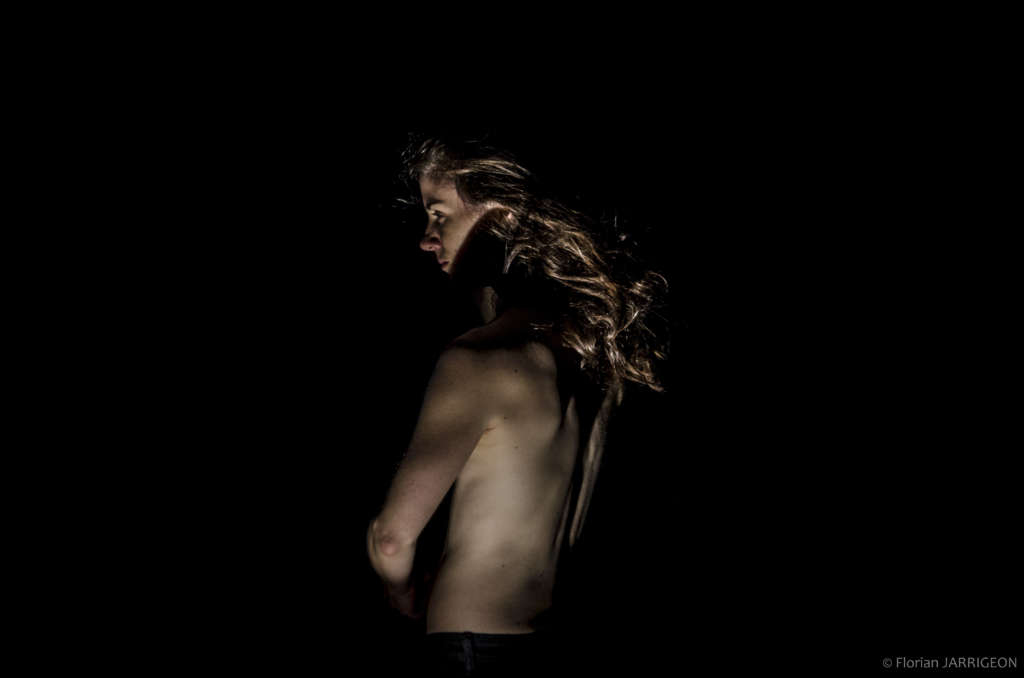 content
« What would happen if you put a ladder in the body and climbed down to the bottom? » Tatsumi Hijikata
Here the body faces its own opacity, grappling with this raw, infinite matter, which watches over each of us and escapes any organizing seizure.
One perceives little by little the contours of a motionless body, whose light approaches, in the heart of a great darkness. In a hypnotic movement, a dance emerges where nothing clings, nothing asserts itself, revealing various strata, between surface and depth, visible and invisible, form and formlessness. Eaten by shadows, or on the contrary surrounded by a blinding white light, immersed in a haunting and tense soundscape, the body is caught between opposing forces - a struggle between Eros and Thanatos, between desire and fear. In a small, concentrated space, the body evolves with no other support than its own matter. It allows itself to be crossed by its Night - those things in ourselves that we do not know.
Credits
Created and performed by : Hélène Rocheteau
Musical composition : Jean-Baptiste Geoffroy
Light creation : Clotilde Alpha (accompanied by Pascale Bongiovanni)
Assistant : Clotilde Alpha
Duration : 45 minutes
Delegated production : Marouchka
Co-production : DRAC Centre-Val de Loire, Centre-Val de Loire Regional Network ALEVA
Support : The Volapük Tours, The C.C.N Le Havre Le Phare
Dates
l'Usine - Centre National des Arts de la Rue et de l'espace public - Tournefeuille/ Toulouse métropole - Festival Les Nuits Bleues - June 27, 2015
Micadanses Paris - Festival ZOA - October 20, 2015
Le Petit Faucheux Tours - Festival Ecoute Voir - January 17, 2016
Emmetrop Bourges - April 5, 2016
Press
One Night Or Another :
Back to the darkness, to the depths where identity is lost. Hélène Rocheteau's solo is set in the shadows. With a quotation from Hijikata, the dance evokes butô more in its preoccupations than in its form, in the attention that surrenders to what can emerge from the dark and pass through individuality, to the uncontrolled. Sound and light blur the landmarks, the gestures as well. Music is abrasive, the original material. Black, the solo goes to the essential.