Blast
Creation 2012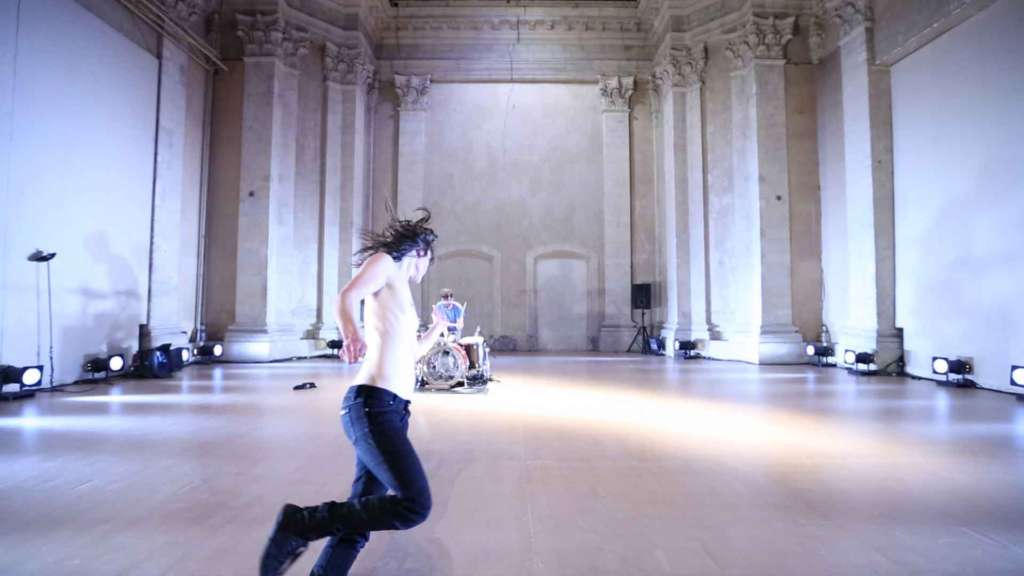 content
Blast is an English word synonymous with blowing effect.
Blast is a duo born from the meeting between Hélène Rocheteau and Jean-Baptiste Geoffroy, composer and drummer. Collision, where the body tries to enter the sound or to let itself be crossed by it. Resonance between the body - the power it conceals - and the power of the drums.
Ritualizing their approach, body and drums are in search of a raw energy, of collapses and wavering necessary to touch the limits, between tension and abandonment, in an organic, sensitive, visceral relationship. The body retranscribes the pulsation, the sound relies on syncopes, the loops rumble, the body becomes instinctive. The spectator is plunged into a hallucinatory experience made of black holes, flashes, stroboscopic visions.
Neither a concert nor a choreographic piece, Blast makes us lose our bearings and invites us to other thresholds of perception. Electroshock without concession, music and dance seek their cathartic fusion point.
Credits
Conception : Hélène Rocheteau
Created and performed by : Hélène Rocheteau and Jean-Baptiste Geoffroy
Musical composition : Jean-Baptiste Geoffroy
Light design : Pascale Bongiovanni
Assistant : Clotilde Alpha
Duration : 30 minutes
Production : Théâtre des Bernardines - Marseille
Support : Le Temps Machine - SMAC Joué-lès-Tours
Dates
Le Temps-Machine - Joué-lès-Tours - january 28, 2012
Théâtre des Bernardines Marseille - Festival Les Informelles - may 31, 2013
Emmetrop Bourges - january 30, 2015
Le Tétris - Festival Pharenheit - CCN Havre - february 06, 2015
Le Petit Faucheux Tours - Festival Ecoute-Voir - january 17, 2016
C.C.N Orléans Festival Hop Hop Hop - september 17, 2016 (version with Alma Palacios)
Nantes Pont Supérieur du Conservatoire - Carte blanche RAUM - july 13, 2018
Le Florida Agen - Soirée partagée avec Julien Desprez et Will Guthrie (Pass Murailles Accords Mouvement) - october 11, 2019
Centre culturel Albert Camus Issoudun - may 05, 2020
Press
All the culture :
Blast is a very strong, powerful hallucinatory experience. Here the sound provokes the body, tyrannizes and twists it. Breathtaking.